7 reasons Teresa Giudice should be on 'Dancing with the Stars'
Peter Kramer/Bravo
Teresa Giudice has turned down a spot on Dancing with the Stars in the past, as it would have been too difficult to balance while filming Real Housewives of New Jersey. Now, she seems to be reconsidering.
"I would love to be on [the show], but I just don't know how I'm going to do that with the four kids," Teresa told Reality TV World in April. "But I would love to be on it."
ABC is expected to announce the cast of the latest season on Good Morning America early next month and we'd love to see Teresa represent the Garden State! Here are 7 reasons why:
1. She has a competitive nature.
Teresa is the perfect contestant for a show like Dancing with the Stars, because she's able to maintain her status as a fan favorite even when she's playing "not nice."

2. She's always the star of the show. 
The entire rest of the cast could be irrelevant celebrities you've never heard of, and it wouldn't even matter because Teresa would still make the show great.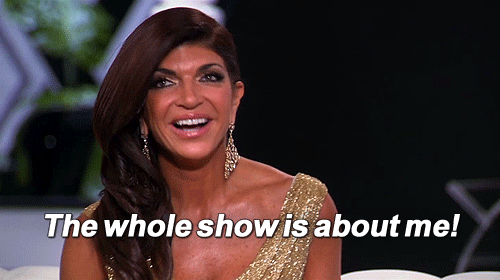 3. Teresa is a naturally fabulous dancer.
See? Plus, she could really put her improved flexibility from yoga to good use!

4. Plus, her experience as a dance mom would certainly be useful.
She's practically already a professional.

5. Her costumes would be unreal.  
Teresa's a fashion risk taker, so you know her dance costumes would be amazing.

6. She could even return as a judge in another season. 
Teresa has a lot of strong opinions about dancers. Her honest advice could be really helpful!

Here's to keeping our well-manicured fingers crossed that we get to watch Teresa on another reality show this year!