Nicole Polizzi proves she doesn't need to be Snooki on 'The New Celebrity Apprentice' debut
Paul Drinkwater | NBC
If you were hoping for Nicole "Snooki" Polizzi's return to reality television in the two-hour season premiere of The New Celebrity Apprentice to feel like a walk down memory lane (or the Seaside Heights boardwalk), you'll probably be disappointed. The Jersey Shore alum, who boldly kicked off her first reality series by announcing "PARTY'S HERE" in 2009, has totally changed her tone for new role as a businesswoman. Although it only took Snooki about seven minutes to say the word "vagina," her soft spoken approach to the game is a side of her we've never seen.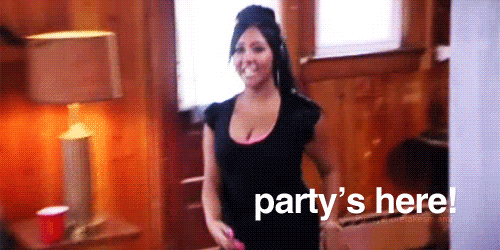 In the first episode which aired Monday night, the mother of two and her 15 celebrity costars, including Kyle Richards of Real Housewives of Beverly Hills and the fabulous Carson Kressley, wasted no time getting to work. Advised by Tyra Banks, Donald Trump's replacement boss, Arnold Schwarzenegger presented the first challenge tasked the two teams (divided into men and women as in previous seasons) with creating a presentation for the supermodel's new cosmetics line, Tyra Beauty.
In the first assignment, none of the women on Team Prima were willing to step up to be project manager. Snooki admitted that she definitely wasn't prepared to take on the task while her six teammates also backed away from the role. Eventually, Real Housewives of Atlanta star Porsha Williams got stuck with it.
As tasks were divvied out, Snooki kept quiet, although she was conscious to say just enough to prove that she's worthy of a spot on the team.
Luis Trinh | NBC
"All of these women have strong personalities and everybody's throwing out ideas," said Nicole. "I mean, it's definitely intimidating, but I definitely want to put my input in and not be too quiet, because then people will think that I'm an idiot."
Unfortunately, Team Prima lost to the men, Team Arete. To be fair, it probably would have been impossible for the girls to create a performance that could beat the hilarity of retired NFL player Ricky Williams giving a makeover using Tyra Beauty products.
Following the loss, manager Porsha was forced to choose two teammates to bring into the boardroom to face the potential of being fired. (Or, "terminated" as Arnold has rebranded it.) After a few tense moments of the team avoiding placing blame on any of its players, Porsha decided to bring Nicole and YouTube star Carrie Keagan into the boardroom.
Immediately, Porsha voiced her opinion that Nicole needed to be sent home. Although she felt that the accusation of being the weakest link was unfair, the Jersey girl took responsibility for her inaction.
"I really think I could do great in this game," Nicole explained, adding that she was nervous to speak up to her teammates. "I really think I messed up."
Carrie took the opposite approach and placed the blame on Porsha. Ultimately, Nicole's honesty was enough to keep her in the game for another episode.
Viewers took to Twitter to criticize Nicole's inability to throw her under the bus, but the star defended herself by saying that she's changed for the sake of her children and is no longer willing to be aggressive.
Fortunately for my children I've changed a lot since jersey shore. I'm all about love instead of aggression. That was my struggle clearly. https://t.co/eno9XdGQva

— Nicole Polizzi (@snooki) January 3, 2017
For the night's second episode, Nicole decided to change her tune.
"I just need to stop being so damn nice," she said.
The next challenge was for the teams to create a song and video for Trident's "Cherish Your Teeth" campaign. Of course, it only took five minutes for the women to decide that Nicole should be knocked out. (Didn't she get enough of that on Jersey Shore? Is being punched in the face on reality TV once not enough?!)
Thankfully, the concept for the video changed slightly, and ended up featuring Nicole flashing her smile to "knock out" professional boxer Laila Ali. Although Nicole's performance in the ring was impressive (it must be all of that work with her Florham Park trainer, Anthony Michael), it wasn't enough to save her team from another loss.
Luis Trinh | NBC
Poor Snooks was chosen to enter the boardroom once again, this time by project manager and Wilson Phillips band member, Carnie Wilson. Luckily, teammate Lisa Leslie stood up for our favorite girl and pointed out that the team's loss couldn't be blamed on Nicole. Carnie was sent home.
Although Carnie brought Nicole into the boardroom, there was no love lost between the two, who shared some kind words on Twitter during the show's premiere.
I love you beyond words Carnie! ❤️❤️❤️❤️❤️❤️❤️ https://t.co/fen6w0Irbs

— Nicole Polizzi (@snooki) January 3, 2017
Perhaps the best part of the entire episode was Nicole trying to keep a straight face while Arnold fine-tuned his catchphrase and said "Hasta la vista, baby" to Carnie. It was pretty priceless.
— Nicole Polizzi (@snooki) January 3, 2017
Nicole definitely took a bit of a beating in the first two hours of the season, but we have a feeling she's going to come back swinging for the rest of the competition. Although she's not the same girl as the meatball who was once chugging Four Lokos in the Shore Store stockroom, we're hoping she's held onto one trait from her Jersey Shore days: her perseverance. The Florham Park resident and Etsy store owner had a rocky start on the MTV series, but quickly became one of the show's strongest personalities. We know she's capable of making another awesome comeback on Celebrity Apprentice!